Published on Dribbble / ui | Kostya Vargatiuk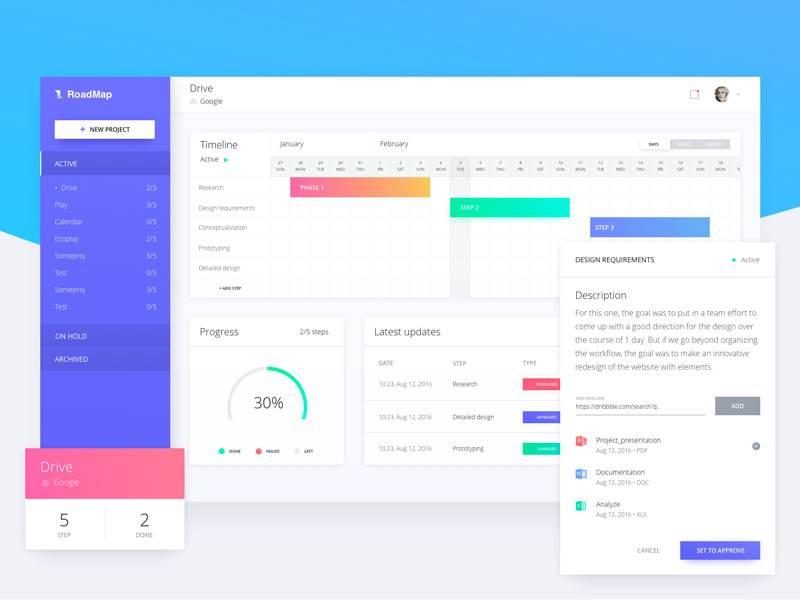 Goal

The goal was to create dashboard that facilitates communication between managers and their clients, providing each party with instant access to all necessary stats regarding the current project status and its roadmap. This is something we've been working on for our internal usage, to make our client's lives easier, and help us both stay on the same track during each project.
Problem

Client – inability to see the whole picture of the working process when dealing with a manager or a small studio. Specifically, the number of phases left prior to project completion; time required for each of the phases and the project overall; access to deliverables of each phase.

Manager – miscommunication with clients or small studios because of other party's different perspective, which might not be necessarily aligned with the manager's one.
Solution

Transparent and intuitive management system for clients and managers, providing insights for project phases. Manager can control and track any project updates that the client can access anytime. We look forward to developing the tool and testing it. What do you guys think?
Press "L" to show some love!
Don't forget to follow Zajno on social media and feel free to drop us a line:

Facebook | UpLabs | Twitter | Instagram | Zajno | Medium
Supported by the Adobe Fund for Design.