Published on Dribbble RSS by Hittter / Views | isiluzum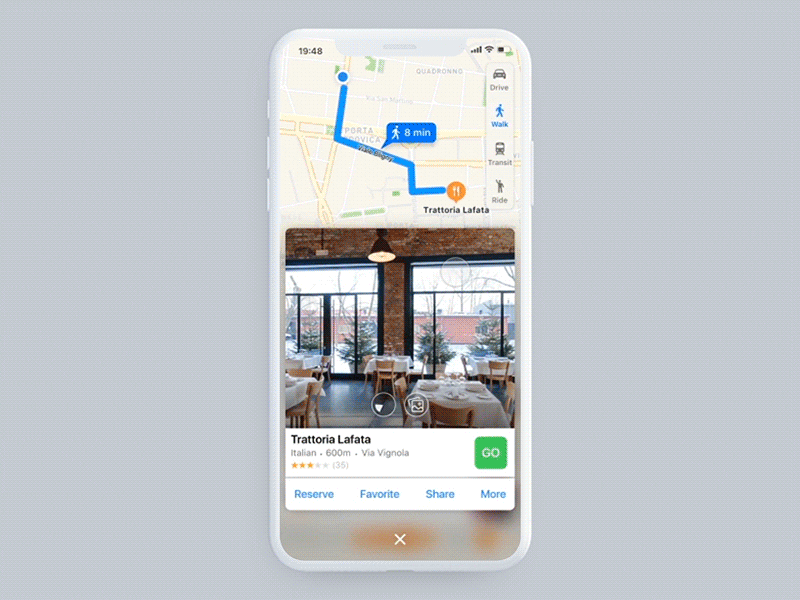 When I search for a new place to try on Apple Maps, mostly my two criteria are simply location (not only the distance but also where it's on map) and rating. And it's frustrating for me that it's impossible to browse places seeing both, either I look to pins on map and have to tap on them to see each one's rating, or I browse the list and have to select one by one to see their place on map.

Also other apps which I've tried aren't any better.

My first attempt was to find a simple solution for this. But once I started to design and think on my experience with Maps, how, when and why I use it, I explored other possible improvements and additional functionalities.
MAP VIEW AND PINS

See more about places on map and see what's beyond map area

– Pins with three different sizes based on rating, easier to scan and compare at a glance

– Distance of the farthest pin visible on map

– Horizontal list of pins at bottom, which is the extension of the regular list with less detail, showing places just outside the map area and how distant they are.

– More specific icons to show type of restaurant

– Time selector has an option to show sunset/sunrise times in that area by changing the map background color
Quicker way to see details of a place:

By tap and hold on a pin or list item;

– look around 180° inside the place (or see images if it's not provided) and see directions, address

then just swipe up and release for more, like to

– look around 360°, see more images

– Reserve, Favorite, Share, Go, or select More to open the place's own screen, possibly also Message to chat with its business bot

– change -walk vs drive vs..- for the relevant directions info
FILTERS

Open:

– Select a specific day and time to see the ones open within that time range OR if you're not decided / flexible about time,

– Turn on "Time simulator" to change hours and see dynamically which places open/close at what time.
Open your calendar inside Maps, select a day (say you want to see when a friend visits you and reserve a restaurant which is open that day) or select directly an event to set its day and time.
Close to:

Search places close to another specific type of place, or to an event's location, and see where they are all located related to eachother

Some example cases, where this could be useful:

– Close to event: Search a restaurant for having lunch just after a meeting, or search a hotel close to the conference you attend in a new city.

– Close to Atms or Banks: If you need to withdraw or exchange money before entering the restaurant or shopping mall, browse the ones close to ATMs.

– Close to transportation: If you want to arrive to a place using public transportation, search places which are close to bus/metro stops.

– Close to landmarks or museums: As a tourist, find a popular restaurant which is also close to the sightseeings you want to visit and save time.
Show visits and likes by friends:

See which places are visited and/or liked by your friends based on their check-ins, likes in other integrated social media, msg or reservation apps.
And Cuisine, Price, Sorting options..
MAP SETTINGS

I added People density as another type of data Maps could provide besides Traffic, to see where it's more crowded visualized in the form of heat maps. 

If Time simulator is ON, you can change the time on map and see how People density and Traffic changes based on time of the day, instead of seeing only the current situation at that moment.

Different than the Time selector option on Filters -which is to change day/time and see which places are open or closed-, Traffic and People density for a later time would be estimations based on historical data.

I think it can help in cases like,

– When you are a tourist in a new city and want to see where it's more lively at any time of day.

– If you're alone and don't prefer to walk on a desolate area late at night

– If you want to choose right places for your outdoor advertisement…
Supported by the Adobe Fund for Design.