Published on Dribbble / ui | Mathieu Boulet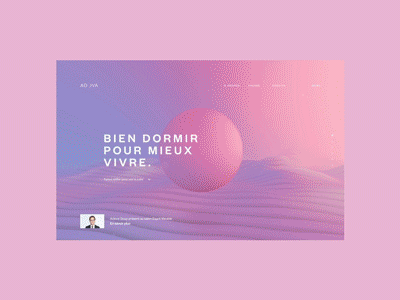 Little website release for Adova Group, a world-leading bedding equipment supplier.
On the idea of "Better sleep for brighter days", the background aims to inspire calmness and coziness as you scroll to discover more content about the company. Recreating a peaceful environment and atmosphere playing with a soft, quilted ground texture, a floating sphere for balance, and natural gradient colors picked from natural daylight and moonlight, from sunset to sunrise.
You can check the screens attached and live version here: adova-group.com
Credits: SID LEE. Project management, Clément Cassajus. Front-end development, Florent Biffi. WebGL, Damien Mortini.
Featured articles on Prototypr:
Supported by the Adobe Fund for Design.